The subtle and powerful protection
Most practical design, contains 3~6 bursts, sprays with a minimum one-meter range per burst each time
But if you have used a pepper spray before, just one burst is very powerful.
The product is specially designed with professional specifications


Product operation instructions video
http://www.youtube.com/user/chenmitz
Product features
Ultra condensed natural pepper. Nobody can withstand the effect, but does not cause any harm to people
Each product has been tested for 12 hours at high temperatures before leaving the factory
Made with transparent material. You can check the liquid amount at all times by using a desk lamp or flashlight
The clamping design makes the product convenient to carry
Patent No./Country :
1. Taiwan No. 89202162
2. China No. ZL982347952
3. USA No. US005924601A
Model types
Comes in four types of accessories: G02 small chain, G03 large keychain, G05 mobile phone strap, small keychain G15.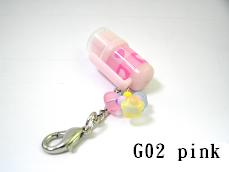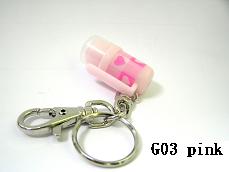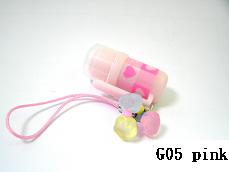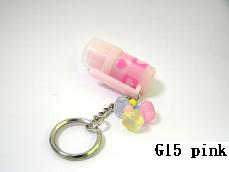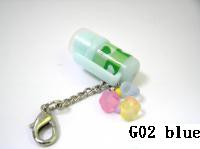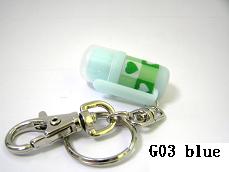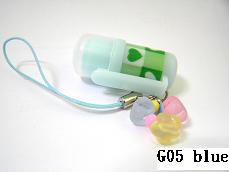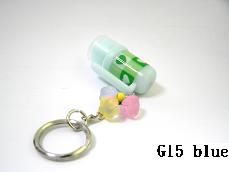 Two colors: pink and green Provides different styles and colors all for you to choose
If you can use this for public relations, sending it to your subordinate, boss and clients, your relationship sill surely add a bonus and sooner or later brings you success of what you do!

It comes from true and sincere care would you send this product to others. This is much more meaningful than treating a dinner, coffee or chocolate! The person would feel the warmth and care even if it won't be used!

The sense is more important than being rational; Relations do not matter!


We hope that you and your beloved ones, good friends and family can all possess this product! However, will never have to use it in their lives!

An additional sprayer outside may reduce one wounded soul

Buy five and get one for free!
WE SHIP TO WORLDWIDE !!!
Free shiping!

Postage
Once your payment as been received, your items will be posted via Registered Air Mail the tracking number also will be email to you
in 36 hours and should arrive within 7-25 days Worldwide. Express postage is also available at extra expense to the buyer upon request.
Q&A

What can it do
The major ingredient inside is ultra condensed pepper, which has two main functions:


1. If you spray it on a bandit's face, the eyes will not be able to open! If opened the bandit will experience severe pain!

This is as same as if we directly
smear pepper into the eyes. The bandit will be okay once using cold water and soap to rinse his eyes. However before washing, tears will continue to come out and feel severe pain, even if he tries to reluctantly open just a small gap.


2. When a girl is inside a taxi, elevator or room, the villain will just not open the door.
You don't need to spray towards the villain! You just first hold your breath, and spray towards the air for three seconds to let the room fill with pepper.
Once inhaled, the villain would intensely and continuously cough as he was nearly to die. If in a taxi, the driver must stop and open the door for air, as you can then make your escape!

With such a small size, how many times can it be sprayed?


The designed spray genie can be sprayed 3~6 times with a range at least one meter. It can be sprayed several times, for example you can spray a thief today if in your house, and you can spray a bandit tomorrow, and you can further spray a lecher the day after tomorrow!
However one would likely to be so unlucky. Using it just once however is already worth it!

The self-defense spray is not coke or soy sauce which we drink every day, or the bigger the better!

We are unlikely to freak ourselves out and carry a big thing all day to satisfy our secure feeling. You would probably just carry it 2~3 at most!

If guns are legal, would you carry an AK47 rifle on the streets every day? Or would a survival gun be more suitable?

Novice users would always think that buying a large pepper spray would be better! This is like carrying a samurai sword appears to be more useful than a small knife.

Would you carry such a think on the streets, while shopping, to work, on a date, or having a meal…?

A barking dog never bites!

Would the genie spray become invalid if not used for a long period of tine?


The packaging is labeled with the usage time period, about 2 years. You can use a flashlight or desk lamp to check the remaining liquid inside. The bottle is made from transparent material, as long as the liquid remains, the spray would not deteriorate in three or five years.
Genie Co. Ltd is a professional manufacturer in mini sized self-defense sprayers. Genie was established in 2000, and our products are sold to more than ten countries such as Europe, USA, Japan and Asia. From today we begin our global business from B to C. We welcome any questions and suggestions.
These are some feedbacks of our product from eBay for your reference:



Genie Co., Ltd.

1F., No.9-7, Balidui, Danshui Township, Taipei County 251, Taiwan
Tel: 02-2801-1578
QQ:1479812747
Skype Account: genieco